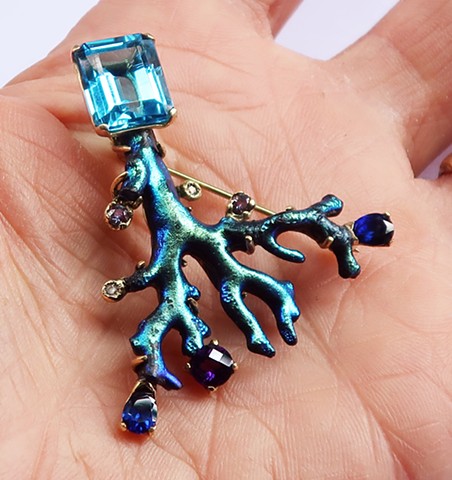 Brian's Custom Brooch.
18k yellow gold, Blue Topaz, Amethyst, Blue Sapphires, Alexandrites, White Diamonds, Aura Coral
2018
This is a custom piece I made for the very gifted Interior Decorator and Designer, Brian Del Toro. I have made several custom pieces for Brian over the years and so when he told me an idea he had for a special custom brooch, I was very excited! He gave me a little envelope containing a piece of Aura Coral and several gorgeous gemstones, all inspiring to say the least! I made a few Photoshopped sketches based on his idea, he chose his favorite sketch, tweaked it a bit and I got to work. The setting for the coral & stones and the pin and clasp are all 18k yellow gold. It was one of the most challenging pieces I have ever worked on, but I am very proud of how it turned out! He wore it on the opening night of the 46th Annual Kips Bay Decorator Showhouse, for which he designed a room!